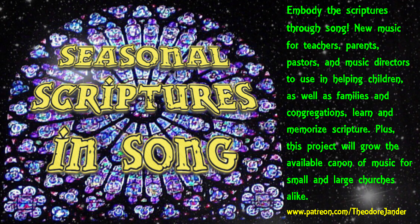 I am super thrilled to share with you a new endeavor!
First, I want to begin by saying that the Composer-in-Residence position at Lutheran Church of the Good Shepherd in Hazelwood, MO has been and continues to be a wonderful experience and blessing.
I am now seeking to share my passion and serve churches and schools locally and around the nation through this exciting, new project, Seasonal Scriptures in Song.
The opportunity to expand this type of work can more easily occur with the help of many. What's amazing is that this can happen at various contribution levels starting as low as $1 per month.
To find out more, check out my official Patreon page at:
www.patreon.com/TheodoreJander.
I truly hope many long term patron-ships will develop as this project grows!
Patreon Patrons
Louis and Martha Jander
Stephen Coenen
Jennifer Porcelli
John and Judy Hayes
Karen B. Gehner
Jill Gehner
Bill and Brenda Hake
Ann Hier
Neil and Carol Gray
Lutheran Church of the Good Shepherd, Hazelwood, MO – In Loving Memory of Kathryn Carter
Angie and Bob Kemper
Immanuel-Olivette Sunday School
Debbie Linam
Doug Landholt
Marta Miranda Graterole
Charles William Hale
Please like, share, tweet, and follow via: