Allow me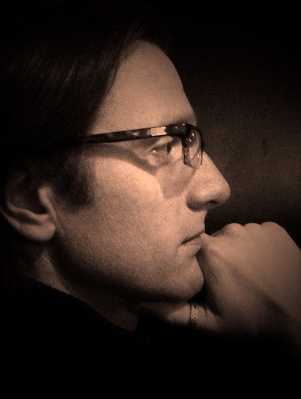 to introduce myself. My name is Theodore (Ted) Jander. I have been composing and arranging for a little over nineteen years. Though, singing was my first passion. Growing up in a singing family helped build my confidence to take those first big steps onto a stage at the age of ten. I have not stopped performing since. From participating in grade school choirs, church choirs, collegiate ensembles, to honing my musical chops as Artistic Director and member of the Greenleaf Singers (a St. Louis-based Early Music Vocal Ensemble), and as Co-Minister of Music at Lutheran Church of the Good Shepherd in Hazelwood, Missouri, sacred choral music emerged as my passion, more specifically, composing music for the church.
In order to nurture this enthusiasm for writing music, I began my compositional studies. While completing my Bachelors in Music Education at the University of MO-St. Louis and my Master of Arts degree with an emphasis in Choral Studies and Composition at Webster University, I was blessed to receive compositional guidance from several fantastic and gifted individuals: Dr. Claude Baker, Professor Kim Portnoy and Professor Robert Chamberlin. Because of my studies at Webster University, my dream of studying and performing in Europe came true. I was selected to study counterpoint and composition at the European American Musical Alliance program in Paris, France, during the month of July 2005. I studied counterpoint with Dr. Philip Lasser, and composition with Michel Merlet and Narcis Bonet.
Not only did formal studies help in my development as a composer, but so too, did teaching. I have taught beginning piano, music appreciation, music theory and directed choral ensembles at the middle school and high school levels. Along with my role as Artistic Director for the Greenleaf Singers and as Co-Minister of Music at Lutheran Church of the Good Shepherd, I am Composer-in-Residence at Good Shepherd as part of the Lutheran Church Composer-in-Residence Program, which I established in January of 2011. Over the past twenty years, each of these circumstances provided me with multiple opportunities to also cultivate my music engraving skills utilizing Finale Notation Software.
Out of these experiences, my musical oeuvre has grown. Sacred choral music represents the bulk of my output. However, over the past several years, writing for other instruments has built up my catalogue. Dabbling in the world of electronic/mixed music provides a nice change of pace from the more formal situations of music making. From my musical growth, a new mission has evolved, to create Seasonal Scriptures in Song. This project will grow the available canon of music for small and large churches alike, all for just the cost equal to three or four lattes a month from your local coffee shops. Teachers, parents, pastors, and music directors will be able to use these songs to help children, as well as families and congregations, to embody the scriptures through song.
I also have a great interest in music history, specifically the Middle Ages through the Renaissance. Links are provided to many of my favorite Medieval, Renaissance and music sites. Be sure to check out the links page. You can also find me on the following websites: American Composers Forum, NewMusic Online Library, Society of Composers, Inc., Journey Begun Music and ACIDplanet.
With all these hats (did I forget to mention that I am also a Wellness Consultant for Juice Plus and an avid cyclist?), I spend as much time as I am able with my two amazing children, Ellie and Evan, and with my girlfriend, Jennifer, who is awesomely supportive, beautiful, and talented.

Food for Thought: "The obvious to find is the most difficult to obtain!" © 1990